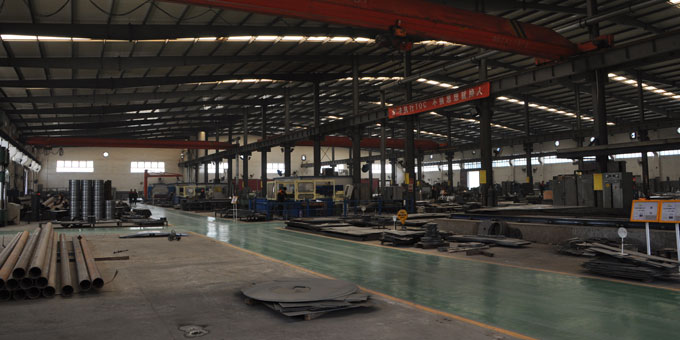 The material preparation workshop roughly treats steel plates, steel sections and other raw materials according to the technical requirements. It has some leading-edge CNC laser cutting machines.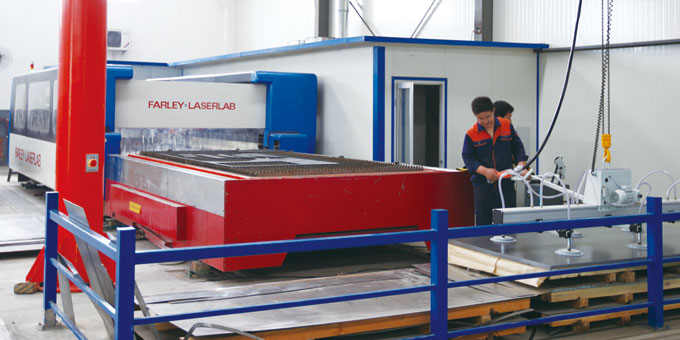 The laser cutting machine adopts sensors and cutting heads that are supplied by Precitec Group (Germany), and the aplanatic optical system ensures high consistency of cutting quality. This device is able to process workpiece whose size is 4M×2M at most. The slit width varies from 0.1mm to 0.3mm, and the roughness of cut is not over 6.3-12.5μm. The variations of these two parameters are resulted from the differences of plate thickness.
---
Machining Workshop
The machining workshop is used to process workblanks into semi-finished products through cutting, shearing, planing, milling, grinding and other operations. Our machining workshop is outfitted with advanced vertical machining center, gantry milling machine, CNC lathe, CNC broaching machine and dynamic balance tester to guarantee the working precision.
---
Welding Workshop
Inside our welding workshop, there are leading-edge CNC bending machines and large-scale four-post universal hydraulic machines for the shape forming and compression molding operations of milling machine, square plansifter and other steel plates.
---
Surface Treatment Workshop
The surface treatment workshop is built to implement derusting, phosphatizing, pickling and plastic coating operations for the half-finished machine parts. We have introduced high temperature electrostatic powder spraying line. This powder spraying line charges plastic powders with the help of high-voltage electrostatic device, and then the powders are uniformly coated on the target workpiece under the effect of electric field. Finally, high-temperature baking is executed to melt the powders into a compact protective layer which sticks to the workpiece surface firmly. The film thickness per pass is within 50-80μm, and the adhesive force, corrosion resistance and other performance parameters all exceed those of paint layer. So, one-step spraying is applicable for milling machines, square plansifters and other large-sized equipment.
---
Assembly Shop
Inside the assembly shop, all the components are assembled together to form entire machines.